CITES takes unprecedented steps to stop the illegal African rosewood trade
On March 11th, the 74th Standing Committee meeting of the Convention on International Trade in Endangered Species of Wild Fauna and Flora (CITES) met to discuss the continuing illegal trade of Pterocarpus erinaceus, also known as kosso or African rosewood. Today, the CITES Secretariat took an unprecedented step by notifying all range States (countries where the species is endemic) […]
On March 11th, the 74th Standing Committee meeting of the Convention on International Trade in Endangered Species of Wild Fauna and Flora (CITES) met to discuss the continuing illegal trade of Pterocarpus erinaceus, also known as kosso or African rosewood. Today, the CITES Secretariat took an unprecedented step by notifying all range States (countries where the species is endemic) that they have 30 days to either:
Verify that the species is harvested legally (via a Legal Acquisition Finding [LAF]) and without further detriment to the survival of the species (via a Non-Detriment Finding [NDF])
Submit to a voluntary zero-export quota where no exports of the species will be allowed, or
Face formal trade suspension.[1]
This is a remarkable move.
The proposal, put forth by all range States who attended the meeting and supported by the US and the EU, initiates Article XIII, also known as CITES' official compliance framework. Invoking Article XIII indicates a serious concern for "systemic or structural problems with the implementation or enforcement of the Convention."[2] In other words, it is an acknowledgment that past measures to protect P. erinaceus have simply not worked, and that CITES Parties (countries that are signatory to CITES) who are responsible for the measures to verify the legality and sustainability of trade, have not been able to eradicate illegal trade alone. It is also in keeping with 2019 CITES guidance on the verification of legal acquisition of CITES specimens. While producing a LAF to verifying legal acquisition has always been a requirement for issuance of a CITES export permit, the 2019 guidance acknowledges states that rule of law cannot simply be assumed, and that leaving Parties to their own devices (absent unifying guidance) was undermining the ability of CITES to control illegal trade.[3]
African rosewood was listed on Appendix II of CITES in 2016. To date, however, no range State has been able to submit an acceptable LAF or NDF, and illegal trade remains pervasive. Piecemeal measures, such as trainings and risk assessments recommended by the CITES Secretariat, have not been implemented at the scale required to truly make a difference.
Background: Why African rosewood?
The term "rosewood" is used to designate several hundred species of tropical timber found across West and Central Africa, Southeast Asia, and Latin America. As anchor species in old-growth forests, rosewood can deliver critical ecosystem services, such as supporting biodiversity and reducing flooding and water stress. Healthy ecosystems can also support sustainable socio-economic development – when harvested sustainably, rosewood can boost local livelihoods; it is also traditionally used for medicine.
A large body of evidence has demonstrated illegalities in rosewood supply chains, including harvesting in contravention of national laws, smuggling, transshipment, and documented links to corruption and conflict. Rosewood has become the most trafficked group of endangered species, and African rosewood is by far the most trafficked rosewood. Corruption, poor governance, and conflict over natural resources undermines the social fabric of national governance and sustainable development, and rosewood species are often targeted by traders taking advantage of an environment in which laws are non-existent or poorly enforced. Import data reveal that rosewood follows a "boom and bust" cycle, in which traders can nimbly pivot from one country to another, often capitalizing on weak governance, political transitions, or the suspension of national legislation, such as a log export ban. In several range States, the revenues generated from the rampant extraction of rosewood fuels ongoing inter- and intrastate conflict, including armed conflict.
China is the main – but not the only – rosewood market, led in part by a resurgence in demand for Ming dynasty-era classical furniture and décor and to financial speculation that, as political ecologist Annah Zhu argues, functions as a "cultural fix" or an outlet for surplus wealth.[4] Twenty-nine species, including P. erinaceus, are officially designated as hongmu (红木) under China's National Hongmu Standard (2017). Given its cultural importance, China Customs maintains separate HS codes for rosewood logs, sawnwood, and furniture.
2014 marked the peak of the rosewood "boom," in which China imported over $2 billion in hongmu species. Trade fell precipitously in 2015 before peaking briefly again in 2017. By 2020, imports had dropped to one-fifth of their 2014 levels, and the proportion of rosewood species in China's total log import mix has dropped accordingly. Traditionally, most of China's rosewood imports have come from Southeast Asia. From 2010 to 2014, however, China's rosewood imports from Africa soared 700%, as Asian rosewood species were increasingly logged out and traders found willing sellers, a less-expensive species (P. erinaceus), and governments that either lacked capacity to clamp down on illegal logging and trade, or in some cases, actively supported it.  In 2020, over 83% of China's rosewood imports were from Africa.
Figure 1: China's imports of hongmu logs and sawnwood, by source region and volume, 2011-2020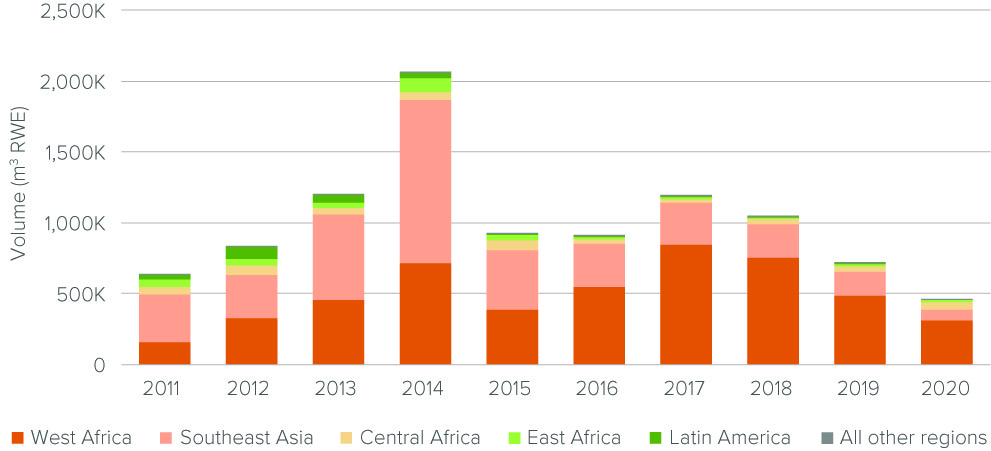 Source: General Administration of Customs, P.R. China, compiled and analyzed by Forest Trends
Boom and bust: Tracking the fast-moving kosso trade between West Africa and China
African rosewood is now vital to the timber trade between West Africa and China. Seventy-seven percent of all hardwood logs imported from West Africa into China are now reported as hongmu, soaring from 34% in 2011, even as absolute trade in hongmu has dropped.
Figure 2: Proportion of China's log imports from West Africa classified as rosewood, 2011-2020
Source: General Administration of Customs, P.R. China, compiled and analyzed by Forest Trends
In January 2017, CITES listings regulating trade in many rosewood species took effect, including a genus-wide listing for Dalbergia and a listing for P. erinaceus. While overall Chinese imports have declined, China's rosewood imports in 2017 actually rose compared to the previous year – demonstrating the limited effectiveness of the CITES listing. It was only in November 2018, when CITES issued a trade suspension of P. erinaceus from Nigeria,[5] that Chinese imports began to decline. Nigeria was then the largest supplier of rosewood globally and accounted for over 60% of China's rosewood imports. An Environmental Investigation Agency (EIA) report revealed that the then-Environment Minister, who signed close to 3,000 CITES export permits, allowed traffickers to export an estimated $300 million worth of logs.[6] The trade suspension had immediate impact: China's imports of Nigerian rosewood the next year fell by 30-fold, causing overall rosewood imports to drop more than 50%.
Figure 3: China's monthly imports of hongmu logs and sawnwood from West Africa, by volume, January 2017 – December 2021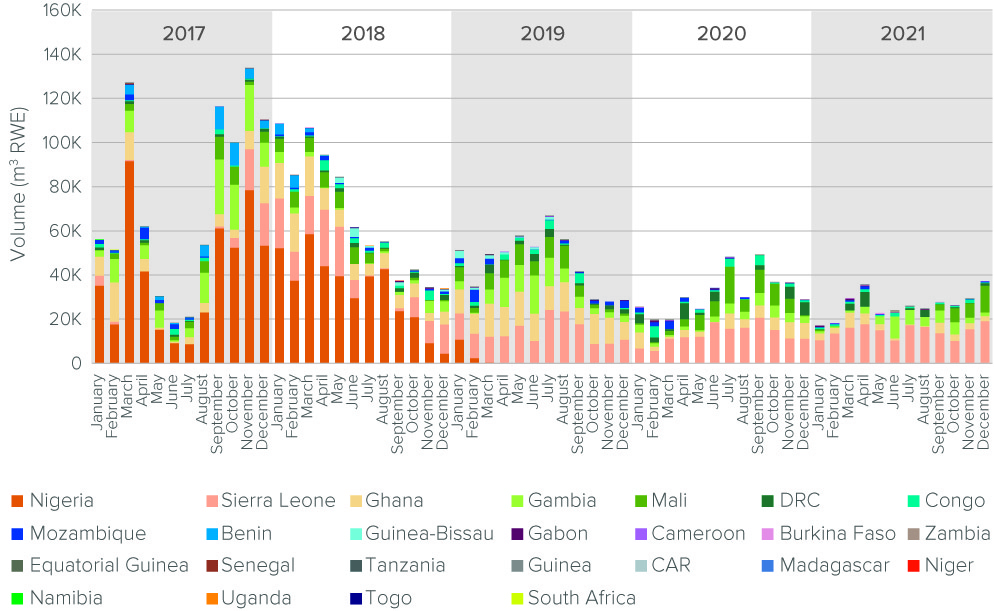 Source: General Administration of Customs, P.R. China, compiled and analyzed by Forest Trends
Imports from other supplier countries, such as The Gambia and Ghana, are down as well, due to a combination of factors such as enforcement of national export bans, difficulty in getting CITES permits, and the economic turmoil precipitated by COVID-19. And yet, the market has survived by simply shifting elsewhere, with Sierra Leone and Mali emerging as China's top suppliers of P. erinaceus. In 2021, almost two-thirds of China's P. erinaceus imports by volume, and three quarters by value, were from these two countries. Trade is booming in Sierra Leone, which supplied 36% of all reported rosewood imports into China in 2021 but is barely visible (see Figure 3) until late 2017. A February 2022 investigation claims that the country's Minister of Agriculture, Forestry, and Food Security is "personally benefitting" from the kosso trade, which has catalyzed "catastrophic food insecurity and…environmental and ecological devastation."[7]
China does not currently require traceability of imported wood products through their supply chains, nor have they instituted an import regulation aimed at excluding illegally sourced timber from the market. This could change, as China's 2019 Forest Law contains a legal basis for prohibiting illegal logging, and implementing regulations are expected to clarify whether and how the Law applies to imports. Until then, Customs officials must rely on CITES permits, which are seen as the exporter's responsibility – once the paper is in-hand, it is accepted. But permits are often fraudulent.
Evidence from Vietnam
Vietnam has historically been a key market for rosewood, but imports have dropped precipitously between 2015 and 2020, then stopped altogether in 2021. Vietnam is the second-largest importer of African timber in the world beyond China, with imported P. erinaceus largely processed into rosewood furniture and exported onward to China. Unlike China, Vietnam has an import regulation in place that prohibits the imports of illegal timber: in 2019, Vietnam signed a bilateral trade agreement, the Forest Law, Governance, Enforcement and Trade Voluntary Partnership Agreement (FLEGT-VPA) with the EU, which contained a commitment to ensure that wood products are legally sourced. In 2020, a Decree was issued on the Vietnamese Timber Legality Assurance System (VNTLAS), stipulating that for countries and species deemed "high-risk," importers must provide additional documentation demonstrating legal compliance and undertake due diligence.[8] While importers claim the new requirements are "confusing" and customs data indicate few signs in reduction of overall high-risk timber imports,[9] as of 2021, Vietnam no longer imports P. erinaceus. Other factors could be the decreasing demand within China, or that Chinese traders are sourcing directly from range States rather than through Vietnam.
Figure 4: Vietnam's imports of P. erinaceus, by volume and value, 2015-2020. Left: Nigeria; Right: all other supplier countries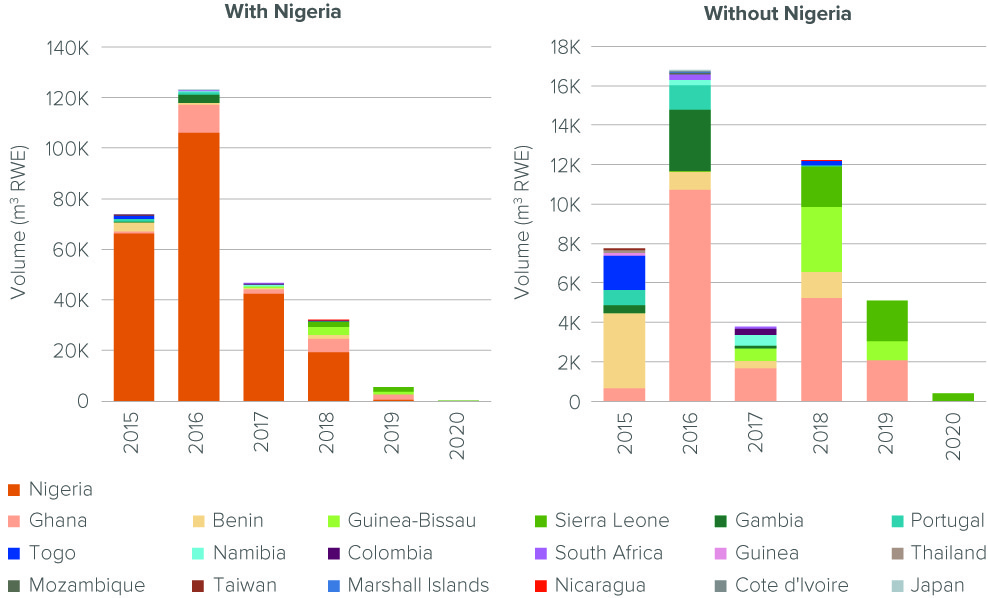 Source: Vietnam's Customs Statistics, compiled by Vietnamese timber associations and Forest Trends
Conclusions
Given the evidence of continued trade in P. erinaceus, the CITES Secretariat's notification to range States is a big step – whether the outcome be robust LAF and NDF, zero-export quotas, or formal trade suspension. No longer would importers simply accept a CITES permit as evidence of legal and sustainable sourcing. Because the notification covers all countries in which P. erinaceus is grown, we are less likely to see "leakage" in which restrictions in one country lead to a spike in trade from another, as has often been the case.
However, there remains risk that trade will simply continue unreported via smuggling or misdeclaration of logs as other, non-protected species. Parties to CITES should also be aware of other African tropical hardwood species that are already being identified as substitutes for kosso in Chinese markets, many of which are also being heavily exploited (Table 1). A genus listing for Pterocarpus will be submitted to the 19th CITES Conference of Parties (CoP) in November 2022, and there is some momentum for a Guibourtia genus listing (unlike listings of single species, genus listings are thought to be more comprehensive). But without widespread protection for all tropical hardwoods, there is a risk that lookalike species will be targeted. Traders claim that South American species may already also be substituting for African rosewood and China's imports from the region are surging.
Ultimately, effective legislation by all nations, particularly the Chinese government, is needed to exclude all illegally sourced timber from international trade. China could accomplish this by enforcing the 2019 Forest Law or other measures, which can complement CITES listings to ensure that future trade in all timber is legal, sustainable, and beneficial to local livelihoods in places where timber is grown.
Table 1: Potential replacement species for P. erinaceus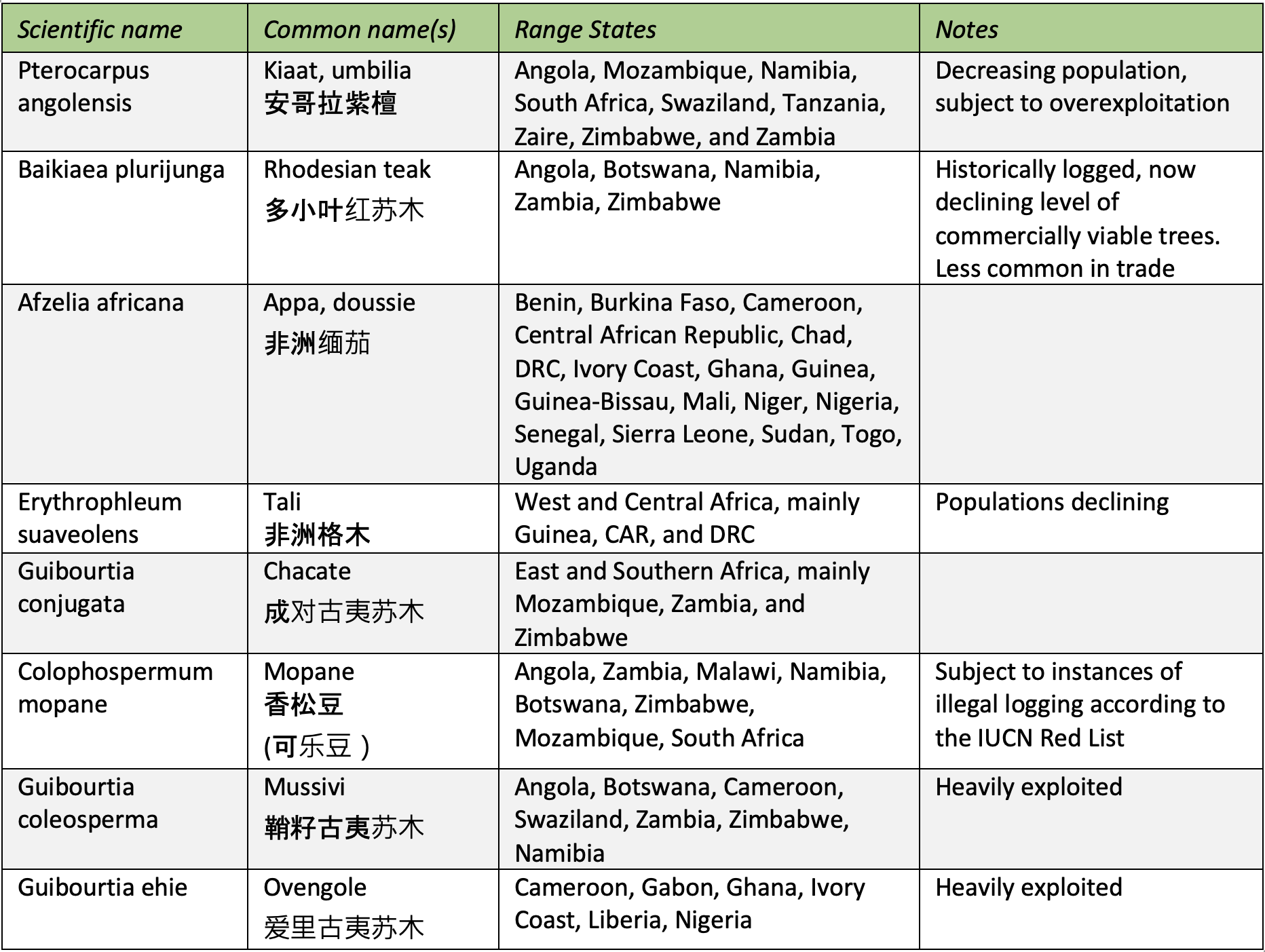 Note: based on best available public data. Forest Trends assumes responsibility for any errors.
For more information on the legality risks associated with rosewood supply chains, please visit https://www.forest-trends.org/fptf-idat-home/.
[1] CITES. 2022. "Notification to the Parties No. 2022/021: Expedited application of Article XII for West African rosewood Pterocarpus erinaceus for all range states." Accessed March 28, 2022. http://cites.org/eng/node/130795
[2] CITES. 2022. "Convention on International Trade in Endangered Species of Wild Fauna and Flora, Article XIII". Convention on International Trade in Endangered Species of Wild Fauna and Flora. Accessed March 16, 2022. https://cites.org/eng/disc/text.php#XIII
[3] Forest Trends and CIEL. 2022. Legal Acquisition Findings: A Handbook by Forest Trends and Center for International Environmental Law (CIEL). Washington, DC: Forest Trends. Accessed March 16, 2022. https://www.forest-trends.org/publications/legal-acquisition-findings-a-handbook/
[4] Zhu, Annah Lake. 2018. "China's Rosewood Boom: A Cultural Fix to Capital Overaccumulation". Annals of the American Association of Geographers 110 (1): 277-296. DOI: 10.1080/24694452.2019.1613955
[5] CITES. 2018. "Notification to the Parties: Application of Article XIII in Nigeria". Convention on International Trade in Endangered Species of Wild Fauna and Flora. Accessed March 16, 2022. https://cites.org/sites/default/files/notif/E-Notif-2018-084.pdf
[6] EIA. 2017. The Rosewood Racket: China's Billion Dollar Illegal Timber Trade and the Devastation of Nigeria's Forests. Washington, DC: Environmental Investigation Agency. Accessed March 16, 2022. https://eia-global.org/reports/the-rosewood-racket
[7] Thomas, Abdul Rashid. 2022. "Chainsaw Massacre: How Sierra Leone's Forestry Minister benefits from Illegal Logging". The Sierra Leone Telegraph, February 27. Accessed March 16, 2022. https://www.thesierraleonetelegraph.com/chainsaw-massacre-how-sierra-leones-forestry-minister-benefits-from-illegal-logging/
[8] Forest Trends. 2021. Vietnamese Imports of High-Risk Timber: Current Status and Control Mechanisms. Washington, DC: Forest Trends. Accessed March 16, 2022. https://www.forest-trends.org/wp-content/uploads/2021/07/Vietnamese-imports-of-high-risk-timber-BRIEF.pdf
[9] Cowan, Carolyn. 2022. "Vietnam's timber legality program not making a dent in risky wood imports". Mongabay, February 2. Accessed March 16, 2022. https://news.mongabay.com/2022/02/vietnams-timber-legality-program-not-making-a-dent-in-risky-wood-imports/
(This blog first appeared on Forest Trends' blog: Viewpoints on 28 March 2022)
Please see our Reprint Guidelines for details on republishing our articles.