In Davos, Big Business Sends Mixed Signals On Climate, Clear Call For Carbon Price
The World Economic Forum is underway in Switzerland, and there's no shortage of support for a price on carbon. Few of the leaders present, however, have expressed the kind of urgency that was expected after the Paris Climate Summit.
22 January 2016 | Feike Sijbesma, CEO of Dutch health and materials group Royal DSM, was adamant as he shifted in his seat at the World Economic Forum (WEF) in Davos, Switzerland.
"You must be really blind if you don't see that we are at a tipping point and into a transition," he said, referring to the shift from a fossil fuel economy to a renewable one and echoing the words of UK Central Banker Mark Carney, who chairs the Financial Stability Board (FSB) and said at last month's Paris Climate Summit that institutional investors identified "transition risk" as their single greatest fear.
That's the risk of getting caught flat-footed in a time of revolutionary change, and you'd expect it to be front-and-center in Davos, where leaders from government, industry, and civil society are meeting through Saturday to focus on the most critical issues of our day.
On the eve of the summit, WEF's researchers found overwhelming agreement among 750 leading economists and other experts that climate change is the biggest threat to our economy, and Sijbesma brought it up repeatedly during a panel discussion entitled "A New Climate for Doing Business".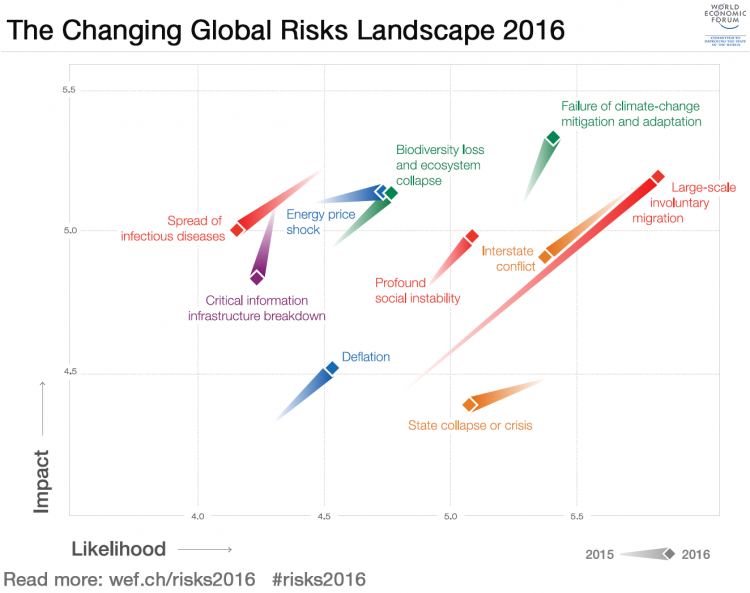 But when the WEF surveyed 13,000 business leaders, it found climate change to be far down on the list of things to worry about; and when PricewaterhouseCoopers surveyed 1,400 CEOs, it found that fear of over-regulation is what keeps 79% of them up at night, while only 50% saw climate change as an urgent threat.
Few of the more than 300 discussions in Davos touched on climate risk, and many participants expressed a fear that flat-footedness was the norm – not the exception.
"We are, frankly, very worried about the lack of discussion on the need for new technology," said Lars Josefsson, who heads the WEF's Council on Decarbonizing Energy. "When you look historically, new technology in the R&D area has a lead time of 20-30 years before you have widespread use."
Dragging Their Feet
More than a thousand major companies and investors now advocate a price on carbon, and Sijbesma said his company uses an internal price of $50 per tonne to guide their decision-making. UN climate boss Christiana Figueres said that the signal coming out of Paris was loud and clear.
"The signal is towards long-term transformation that is urgent," she said. "It's long-term, but there is a ticking clock, because we have to be at a certain point, with carbon peaking within five to 10 years, and then a descent."
For many delegates to the WEF, however, the urgency was lost, and scores of participants said only a mandatory carbon price would change that. Patrick Pouyanne, chief executive of French energy group Total SA, was one of them.
"If we don't do anything about carbon pricing, we will have a lot of coal," he said.
Ikea CEO Steve Howard was especially critical of many delegates, who he said were even more lackadaisical in private than they seemed in public.
"Some companies are backing this future with renewable energy or energy-efficient products," he told Huffington Post's Jo Confino. "At the same time, they're still being in the carbon-intensive, fossil fuel economy and they're trying to defend the status quo…so they're saying one thing publicly and then saying another thing behind closed doors."
Oil and Gas: Realism or Apathy?
The oil and gas sector has taken tremendous hits in the past two years – first, when the "climate bubble" burst after shareholders concluded that oil-and-gas companies would have to write off reserves already on their books, and then when prices plunged over the last year.
While many have celebrated the sector's imminent demise, Stuart Gulliver of HSBC warned that much of the developing world would remain dependent on coal for the near future, and urged companies to engineer a thoughtful transition.
"You can't suddenly have a step-jump where you basically isolate these companies because, actually, a lot of the education, healthcare and various budgets of government come from the taxes that these companies pay," he said. "No one is denying the direction of travel, it's a question of doing this in an orderly way."
Figueres agreed, saying that the expertise and financial muscle of today's energy companies could be leveraged for renewables.
"They actually sit on access to capital, on technology, on a critical mass of engineers – all of which can actually now be moved over to the new economies while they transition out," she said. "They have to focus on their much more efficient products, but at the same time, they need to begin to be the motor behind the transition."
Steve Zwick is Managing Editor of Ecosystem Marketplace. He can be reached at [email protected]. 
Please see our Reprint Guidelines for details on republishing our articles.