EcoOla: Blending Business Sense And Environmental Sensibility In The Peruvian Amazon
During a trip through the Peruvian Amazon, Will Park was introduced to exotic fruits when he was rescued by local indigenous people. Since that moment, he couldn't stop thinking of them and now runs a company called \with his wife Carla Noain – who he also met while on his quest. EcoOla has found both communities interested in working sustainably and a market that seeks their products.
24 August 2018 | William Park had his first exposure to agroforestry in the 1980s, while studying biology at the ASA Wright Nature Center in Trinidad and Tobago, an abandoned cacao plantation that had been converted to a learning center.
"The cacao plants were still growing under the canopy and producing cacao after decades of farming inactivity," he says. "Locals had the wisdom to leave the canopy intact and only plant cacao underneath it."
Fifteen years later, in 2003, Park and a friend found themselves lost, exhausted, and near starvation in in the territory of Peru's indigenous Matses people, until members of the people found them.
"They were so kind to us," he recalls. "They literally carried my friend to the river, treated our ailments, gave us food, and transported us to the nearest Peruvian settlement. And during that trip we tried so many fruits – so different and so good."
He later learned these fruits were just as nutritious as they were delicious.
The sacha inchi, for example, is a buttery nut high in omega-3s, protein and antioxidants – and was, at the time, little known outside the Amazon.
When he returned to California, Park couldn't stop thinking about those fruits and how the people who helped him could improve their lives by commercializing them.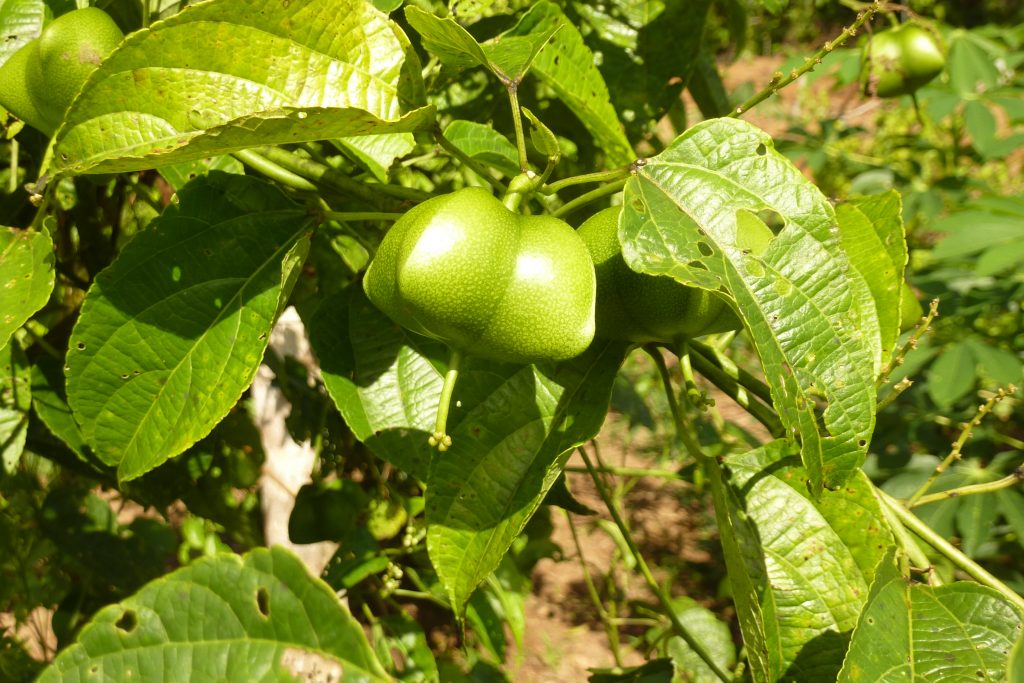 The Journey
Park wanted to find a place where the people were interested in agroforestry and the logistics were suitable for exporting. So he started exploring Peru by boat, interviewing communities as he traveled, and settled on the district of Mazán.
Situated between the Amazon and Napo Rivers, it had docks on both and access to the Mazán River as well. Most importantly, the people were interested in agroforestry systems, and they'd already formed productive associations around specific crops – the legacy of a reforestation project started in the area in the late 1990's.
In Mazán, Park not only found the ideal community for his project, but he also met the woman who would become his wife and partner: student named Carla Noain, who was working part-time at Park's hotel.
"We hit it right off right away and found that we had a lot in common – including eco-social entrepreneurial goals," says Park.
The couple set up shop in California and started pitching sasha inchi to stores like Essential Living Foods, which placed an order for 20,000 boxes in 2009.
Then, in 2012, the couple moved back to Peru and started a company called EcoOla.
"We needed the time to make sure we could pull this off, get the research, and build the network of farmers, technicians, business contacts and clients," says Park. "So in 2012 we had all the elements and skills that we needed to begin to expand and grow the company."
But even with an interested network, Park and Noain learned that working with communities was not easy.
Most forest communities have been left in the lurch by NGOs and government agencies, and skepticism is their first reaction.
That´s why Park and Noain realized that if they wanted to be taken seriously by the communities, they needed to deliver short and long-term benefits. So, before trying to improve production, they started marketing lesser-known products like ungaragüi, macambo, dragon blood and one of EcoOla´s main products: aguaje.
It would prove to be a valuable fruit, but not one easily harvested.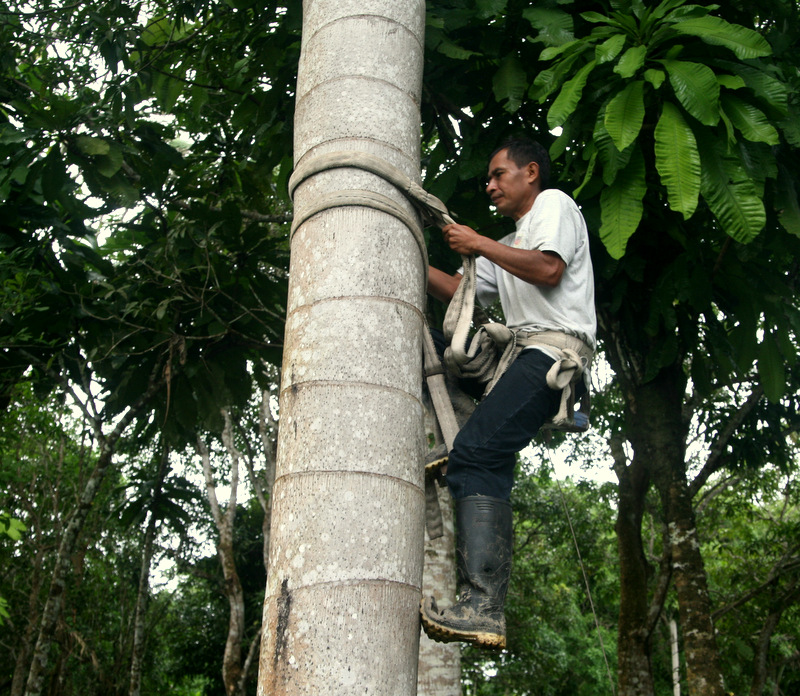 Aguaje
Mauritia flexuosa, is a local favorite rich in vitamin A, E and oleic acid.
"This is one of the iconic snacks of the Amazon," says Park. "In Iquitos and all the jungle cities, women peel the fruit and sell it in little bags; is the most common fruit eaten there."
But the fruits grow at the top of 35-meter (114 foot) palm trees, and are traditionally harvested by chopping the trees down – a practice that wreaked havoc on the swamplands of Mazán in the last decades of the 20th Century.
So in the 1990s the people of Anari – a KoKama indigenous community near Mazán – started reforesting the swamp palms that had been chopped down, while three local brothers – Hamilton, Heracles and Einstein Flores – developed climbing gear called esperanza, or "hope" in Spanish.
At harvest, groups of five to eight men work with a climber and strip the racemes of fruit, fill the sacks, and carry out the fruit. Community patrols visit the aguajales monthly to promote protection and monitor the quantity of palm fruit harvested from community lands.
"It's faster to climb the tree, and the main advantage is that the following year the fruit is there again," says Park. "You have a renewable resource; it can be harvested every year. The community is extremely organized, and they have teams and systems of climbing, collecting, carrying and getting the fruit back to the storage."
And the benefits of reforestation are not only local; the swamps in the area are able to accumulate important amounts of carbon – around 1400 tons per hectare – reducing the greenhouse effect globally.
EcoOla Work
Park and Noain were introduced to the Anari community in 2013 by Angus Morrison, manager of a company called Frutama. By that time, the reforestation effort had already spread over 1500 hectares – roughly 10 percent out of the entire aguaje production zone.
But there was another problem.
All the trees bear their fruit in a three-month period, leading to a feast-or-famine cycle where prices plunge in the harvesting season but soar in the growing season. Intermediaries tended to drive an especially hard bargain when the fruit was plentiful, and Park and Noain realized they could change this by finding ways to buy and process aguaje at the peak of the season, so the market wasn't flooded.
"During that same time, a friend who works for Naturex as a sourcing agent, was looking for cosmetic oils, and he asked me what kind of oils I produce," says Park.  "I do not work with cosmetics, so I had no idea, but aguaje was the most available material, so after tests and trials, it turned out to be a great fit. We started to work with them right away!"
Initially, they started with few farmers and then began to expand their range.  Now they work with around 30 families during the season, producing approximately 10 tons of oil per year and exporting most of it to Europe. Aguaje has become a critical source of income for these families, and has not only increased access to basic needs, but also changed the local dynamic for the long term, since more parents are able to send their kids away to receive higher education.
Now EcoOla and the communities are working to diversify the crops in order to have products throughout the year so that there is a constant source of income for the families and to grow the project so that it eventually includes more than 200 families from neighboring communities.
"We came after the reforestation, to help with the market, and since then with the agroforestry system we've been adding other trees like macambo to help diversify the system where you have crops with different seasons. We are working to develop a year-round agroforestry system," says Park. "There is an ecological balance and an economic activity in the same place. It´s a key thing. It´s a truly regenerative and ecologically balanced project."
Edited by Steve Zwick and Liana Warren
Please see our Reprint Guidelines for details on republishing our articles.