The "Amazon Strategy" – How to Build Resilient Supply Chains and Food Systems post-Pandemic
The COVID-19 pandemic has decimated indigenous people and led to a spike in deforestation across the Amazon. Here's how to fix that.
This story is cross-posted on Viewpoints, the Forest Trends blog.
6 May 2020 | The Amazon rainforest has been shaped for millennia by human occupation, but of a kind that is very different from the logging, razing for cattle ranches, and plowing for soy that we see today.
Traditional Amazon systems have been based on diversity, not monoculture, taking advantage of a multitude of different crops and wild-harvested foods, drawing carefully on different forest types and cultivated areas, and keeping the overall landscape intact. You may be surprised to learn that the Amazon in many ways is much closer to a carefully tended garden than a wilderness.
The COVID-19 pandemic has highlighted the fragility of global food supply chains. Unfortunately, the pandemic has also provided cover for a spike in deforestation in many places, undermining an important source of food security for many rural and indigenous communities. Indigenous communities, already buffeted by economic pressures, invasions of their territories, and violence against their leadership, are feeling the brunt of the pandemic.
Recovery planning should mimic the original Amazon strategy: instead of relying on single-product economies based on beef, soy, or palm oil, we can create a diversity of supply chains based on the incredible natural wealth of the region. We can focus on products that sustain the forest and the communities living there, instead of products that drive forest loss.
Our Amazon strategy is threefold:
First, partner with indigenous communities to incubate new value chains for products that can be grown and harvested without cutting down forests.
Next, create market demand and viable supply chains for these products by working with a broad network of buyers, restaurants, food writers and culinary influencers, entrepreneurs, and conservation groups in South America and around the world.
Finally, it's necessary to take on the other side of the equation – engage companies and governments in the battle to reduce global demand for illegal and unsustainable beef, soy, and timber, and enforce existing laws to protect forests and the rights of indigenous peoples.
These efforts mutually support each other and deliver more resilient livelihoods and food security for communities. They also create an economic engine to keep the Amazon forest intact – something that is non-negotiable if we're to meet climate and biodiversity targets.
A portfolio of forest-friendly products
Investments in agroforestry projects in indigenous communities, like Forest Trends' new partnership with the Arbor Day Foundation, are a triple win. They improve food security, while also increasing carbon storage and supporting biodiversity. Agroforestry projects also focus on marketable crops like açai, Brazil nut, cocoa, and babassu that bring in additional income.
Another initiative, backed by the Ikea Foundation, focuses on bringing back traditional knowledge of medicinal plants from the brink of extinction. The Yawanawa and Surui Tribes are working with Forest Trends to expand a network of "living pharmacies" by building new medicinal plant gardens in their villages and cultivating these plants in agroforestry systems throughout the surrounding tropical forest. Part laboratory and part classroom, each of the living pharmacies provides a space where elders can pass on their traditions to the next generation. The Yawanawa have the knowledge of about 2,000 medicinal plants, some of which are probably unknown to western botanists.
Losing this kind of traditional knowledge threatens more than just local community health; most of today's pharmaceuticals are derived from natural plants extracts – at least 25 percent of modern medicines trace their roots to an estimated 50,000 medicinal plants, only a fraction of which have been studied in labs before commercial use.
Small investments can add significant value. Together with the solar power enterprise GoSol and the Surui Indigenous community, we're piloting solar installations for drying and roasting forest fruits and nuts. A process that would otherwise take up to a week or be outsourced from the community can now be completed in less than a day, saving time and energy, and increasing producers' profit margins.
Strong forest-based economies are not limited to food products. The artisan sector, often dismissed as "women's work," is the second-largest employer in the developing world, and an incredibly important source of income for women. Thanks to long-standing support from the IKEA Foundation, we have focused on indigenous women's artisan enterprises in the Brazilian Amazon as a cornerstone of our work. Working alongside TUCUM, a socially conscious company with an e-commerce platform, we are building indigenous women's entrepreneurial capacity and providing them with an online sales platform. To date, we have increased indigenous women's incomes by 10%, benefiting more than 2,000 people.
Building forest-friendly supply chains and market access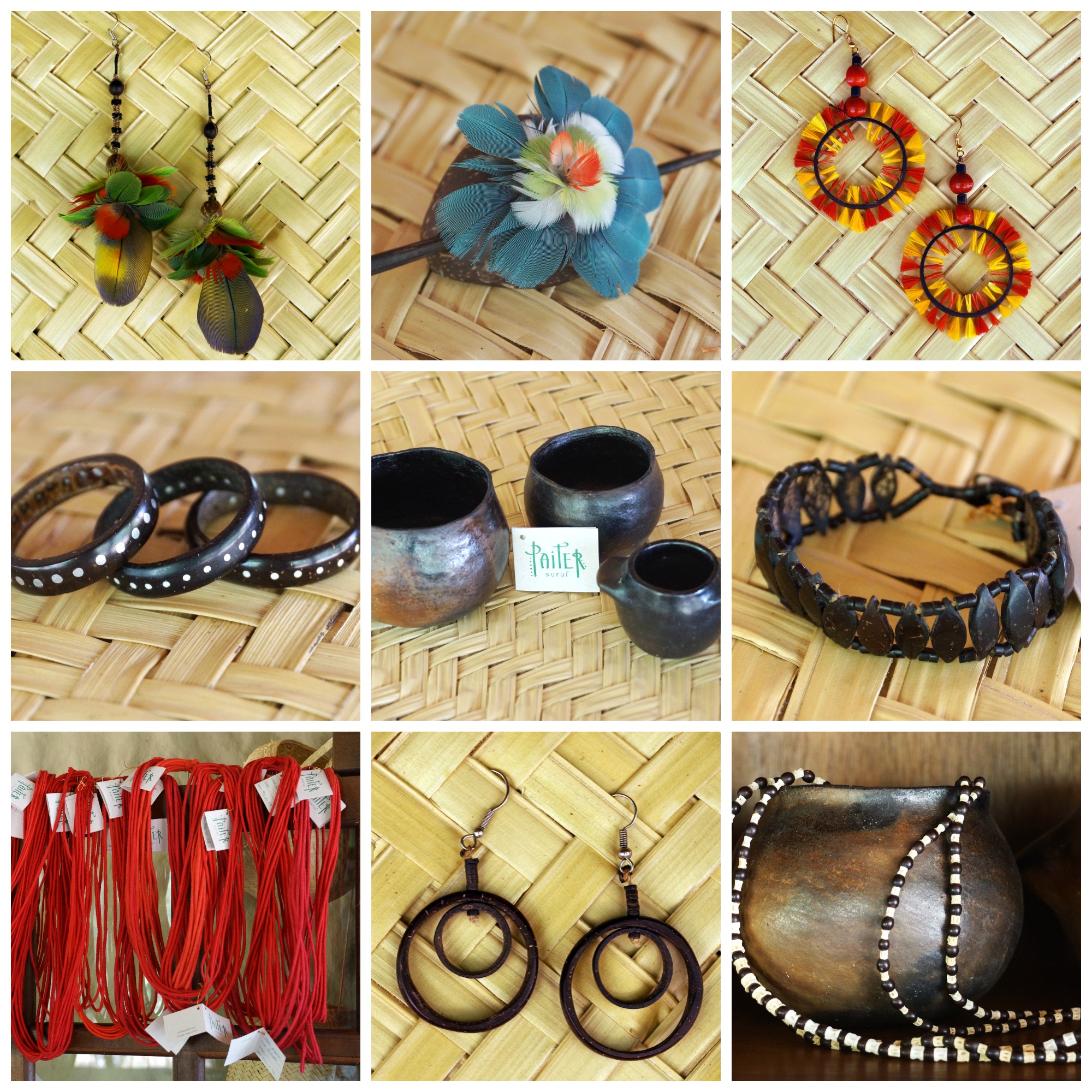 Growing enterprises also need access to markets and capital. This is true for medium-to-large enterprises marketing products like Brazil nuts or açai to mainstream export markets.
But there are also excellent opportunities for small enterprises to sell specialty products like bottled aji negro sauce or smoked paiche fish to local and niche national markets.
Some Amazonian products have shown the potential to expand into larger global businesses. Sambazon, which brought the superfruit açai to the US consumer market, now has over $50 million in annual revenues.
Many, many others have the potential to become self-sustaining micro-enterprises and small community-run businesses that support conservation efforts. But these projects still need support to overcome obstacles such as market access, training, and access to capital.
Targeted support to communities with big positive conservation footprints means that even enterprises with modest revenues have the potential to make a difference over very large landscapes.
A culinary revolution that celebrates Amazon ingredients
One major opportunity lies in Latin America's flourishing food scene. Celebrity chefs and Michelin-starred restaurants across the continent are highlighting local ingredients and traditions. This could be a powerful engine for economic development in forest communities.
Cumari is an exciting new "Rainforest to Table" food movement that provides a model for sustainable development and conservation of the Amazon rainforest. The word "Cumari" is the name of a native Amazonian chili pepper in the Tupi language. It means the "joy of flavor," a term that embodies this new, positive approach to rainforest conservation. Cumari connects restaurants directly with small-scale producers of unique rainforest products. Both parties benefit from small-volume, personalized sales: restaurants get access to high quality local products and small enterprises get increased access to premium buyers.
Strengthening communities' forest governance as a foundation
Markets are not a panacea. The underlying goal in building business models and supply chains for forest-friendly products is to strengthen indigenous peoples' ability to protect their lands and cultures.
In that sense, it's important that new income streams align with indigenous communities' vision for securing their rights, livelihoods, and cultures – all of which must be in balance with keeping their forest homelands vibrant and standing.
We work at the village level with our indigenous partners to reflect deeply on an economic development strategy that aligns with their reality and aspirations. This kind of tailored training contributes greatly to building local economies that strike the right balance between indigenous people's internal traditional economy of reciprocity (e.g., exchanging fish for fruit), with the outside market economy (e.g., selling Brazil nuts or cocoa beans, and always based on principles and practices of sustainability and fair trade).
As part of this deep reflection and planning, Forest Trends created the Capacity Building Program for Indigenous Territorial Governance with the support of the Norwegian Agency for Development Cooperation (NORAD). The program's goal is to strengthen community leadership so they can address the complex challenges of governing large territories. We have successfully completed the first phase of this 12-month program in Brazil, Colombia, Ecuador, and Peru.
Making bad business models obsolete
Of course, when we fail to address the unsound incentives that drive forest loss, even the most promising projects will have a hard time succeeding. Nearly half of all tropical forest loss in the first decade of this century was illegal.
That's why Forest Trends has dedicated programs that focus on the policy and legal strategies for protecting forests and ending corruption and illegal deforestation. We also are a widely respected source of trade and market data, which helps governments and companies make better procurement decisions. Our data shows that the timber import legislation we've influenced is helping keep illegally harvested wood off the market in the EU and the US. We're also working on similar strategies for beef, soy, and palm oil.
The vision: Resilience at the forest frontier
Our work with community enterprises building more resilient food systems and supply chains has already benefited more than 12,000 people living in rural communities in South America, and has contributed to the conservation of 1.8 million hectares of rainforest.
What if we could scale these models to a whole continent? This is not a theoretical exercise. The Amazon is a likely origin of the next emerging zoonotic disease-turned-pandemic if the current rate of deforestation and violence towards the best stewards of the forest – indigenous people – continues. All of the ingredients are in place. Rampant forest loss and habitat destruction have stressed wildlife and pushed them into more interactions with humans. We've already seen surges in malaria and yellow fever in Brazil.
The communities that tend forests with care and traditional knowledge are our front line, not only against emerging pandemics, but climate change and biodiversity loss. Forest Trends will continue to do everything we can to support these communities in their work.r to follow our latest work.
Please see our Reprint Guidelines for details on republishing our articles.