Indonesia's Sustainable Districts Bet On Corporate Deforestation Pledges
Forestry and farming generate more than 30 percent of all the world's greenhouse-gas emissions, mostly because land managers are pinching pennies to meet our own appetites for soy, beef, and palm oil. These rural Indonesian farming districts say they can manage the land more sustainably, but agribusinesses will have to share the risk. Will they?
6 November 2018 | Beni Hernedi loves mountain-climbing, and he bristles when people dismiss his passion.
"They think it's about thrill-seeking and cheating death," he says. "But for me it's the opposite; it's about being out in nature, living life to its fullest, and making sure that everything is done with meticulous preparation and safety."
Those habits got him elected vice regent, or Vice Bupati, for the administrative district of Musi Banyuasin, in South Sumatra, Indonesia, where he developed his current passion: sustainable development.
It's a calling he received during the 2015 wildfires that left swathes of his district in cinders and filled the lungs of people as far away as Singapore and Malaysia – where, ironically, many of the companies responsible for the devastation were located.
"These fires started because our farmers were clearing forest to grow palm oil," he says. "But our farmers were selling to companies in Singapore, and sometimes working for them directly, and it hit me that we have a shared responsibility to address this."
Indonesian attorney Gita Syahrani agreed, and today the two are among the leading force of something called the Sustainable Districts Association (Lingkar Temu Kabupaten Lestari in Indonesian, or "LTKL"), which unites administrative districts that are scattered across Indonesia in a coordinated effort to better manage their forests, farms, and fields. Research shows that these activities can get the world 37 percent of the way to meeting the Paris Climate targets, but they attract just 3 percent of climate finance.
The LTKL aims to bridge the funding gap by creating districts that can attract investment capital – in part by establishing long-term uptake agreements with companies that want to comply with the Sustainable Development Goals (SDGs), which the United Nations created in 2015 to drive finance into clean development.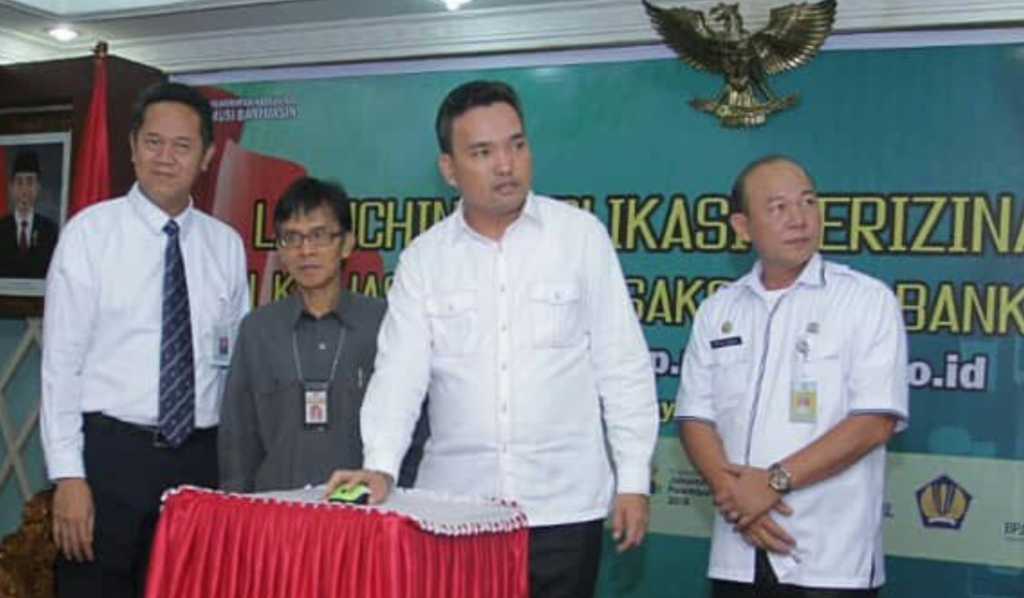 2015: The Great Confluence
The 193 countries of the United Nations General Assembly adopted the SDGs three years ago – on September 25, 2015 – three months after the wildfires had begun engulfing Southeast Asia and two weeks after South Sumatra had declared a state of emergency.
It was the lead-up to the year-end climate talks in Paris, and Indonesia had already pledged to reduce its greenhouse gas emissions by slowing deforestation – a pledge that was formalized in its climate action plan, or Nationally-Determined Contribution (NDC) to the climate challenge when the Paris Agreement was adopted in December.
"All of this stuff was happening at once," says Hernedi. "The national government had its NDC, which we wanted to support, and it has also adopted the SDGs, which seemed like a way to get finance flowing into the district to support sustainability, and the wildfires were a real wake-up call, so I started looking for entry points into these processes."
That's when he learned of another initiative that had begun one year earlier – the New York Declaration on Forests (NYDF), which is a non-binding agreement to cut the global rate of deforestation in half by 2020 and end it by 2030. The NYDF focuses on four commodities responsible for most of the world's deforestation – namely, beef, soy, palm oil and pulp & paper.
"In my district, palm oil was the big problem," he says. "And most of the signatories were active here."
Indeed, three of the NYDF signatories – Golden Agri, Musim Mas, and Wilmar – were located in Singapore, while one was in Malaysia (Sime Darby), one was in Indonesia (Asian Agri), and all had interests in or near his district.
More importantly, all five of these regional players were members of a global sustainability network called the Tropical Forest Alliance 2020 (TFA2020), which was created to help businesses, governments, and non-governmental organizations (NGOs) meet the 2020 targets.
Hernedi started attending regional meetings, where he learned that TFA 2020 had scheduled its first General Assembly for March, 2016, in the Indonesian capital of Jakarta.
There, he found other Bupatis who shared the same goals – and faced many of the same challenges.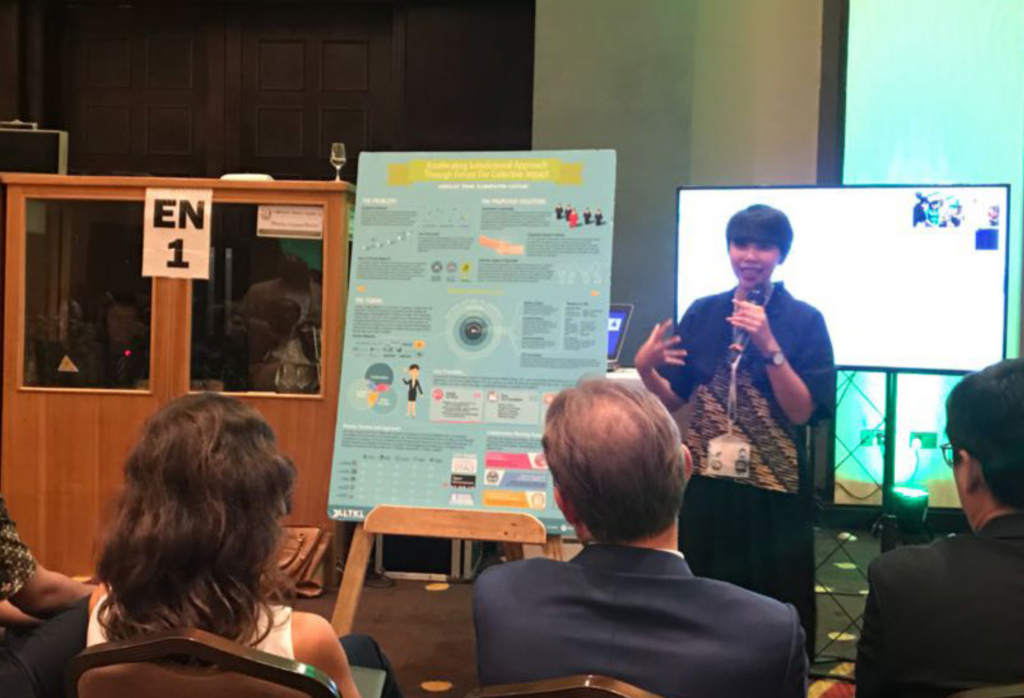 The Challenge
Indonesia's Bupatis often get blamed for the country's rapid deforestation, which kicked in after the fall of President Suharto in 1998. Authority over forests was then decentralized, so Bupatis started granting forest-development concessions to fund their local economies and, sometimes, line their own pockets.
The 2015 fires, coupled with the advent of the SDGs and the Paris Agreement, may have sparked an awakening among some, but sustainability-oriented Bupatis found themselves in a quandary.
"Sustainable development is a long-term endeavor, but Bupatis only serve for five years," says Hernedi. "Also, any budgetary allocation for forest conservation is handled by federal or provincial authorities who don't always understand what's needed on the ground."
In a forested rural economy, the challenge of sustainable development becomes a challenge of sustainable agriculture and forest management – which requires changing practices and managing expectations.
"We can talk about getting certified under, say, the Indonesia Sustainable Palm Oil (ISPO) standard or the Roundtable on Sustainable Palm Oil (RSPO), but that requires up-front investment and education," says Hernedi. "We need help with that, and I need to be able to offer my people, the smallholders in particular, some sort of assurances that their efforts will be rewarded."
Coming Together
When Hernedi met Syahrani in 2016, she was working as the World Resources Institute's (WRI) Sustainable Commodity & Business Manager for Indonesia – a position she'd taken after acting as the private-sector liaison for the National REDD+ Agency, which was a body tasked with helping the country dock with international climate agreements around forestry.
"I'd been working with the districts to develop their green growth vision, and that gave me a chance to see how committed they were," says Syahrani. "That was part of a program that wound down in 2016, and the Bupatis invited me out for a goodbye dinner."
It didn't, however, feel like goodbye, as the conversation swirled around the endless possible linkages between district green growth plans, the country's climate change strategy, and global demand for deforestation-free commodities.
The next day, Syahrani got a call from Hernedi asking if they could keep the conversation going.
"Up to then, we'd been focused on palm oil, because so many companies had commitments in that commodity," says Hernedi. "We realized, however, that we could cooperate on other commodities as well, but that it's also strategic to have a caretaker help put this together, and Gita seemed like the perfect person for that."
Syahrani floated the idea with three organizations: the Sustainable Trade Initiative (IDH), the Indonesia Palm Oil Smallholders Association (SPKS), and the Indonesian Association of District Governments (APKASI) and found enough support to arrange a two-day workshop in December, 2016.
"We were all working pro-bono, but had enough money to get some meeting rooms," she says. "Then we invited 15 districts to participate, and eight of them sent delegations."
The districts, it turned out, had well-developed but extremely varied development programs.
"We had a rigorous discussion around core principles, and agreed that balance was key – that growth and environmental conservation and social welfare should all have equal footing."
Indonesians have a word for that kind of balance: "lestari", which means "keeping things as they are" but implies balance, preservation, and sustainability. They quickly settled on a name: Lingkar Temu Kabupaten Lestari.
"It's new kind of jurisdictional program – one that's spread across eight founding districts that are themselves spread across the country," says Syahrani. "LTKL is important because it's being developed from the bottom up, at the most basic level of Indonesian government, rather than from the top down."
LTKL was formally incorporated in partnership with APKASI by July 2017 and Syahrani formally switched gear to head the LTKL Secretariat. By September, 2017, LTKL participated in its first TFA 2020 Implementation Dialogue. There, Hernedi was one of the key speakers, providing an opportunity to learn directly from global trading groups what companies need from – and can offer – the districts.
That dialogue has since led to trial purchases from smallholders, and a subsequent meeting led to cooperation on fire prevention in peatlands.
Meanwhile, his district has found synergies with several other districts – most notably the district of Sigi in Central Sulawesi, 70 percent of which is protected forest that must be conserved.
"They were having trouble developing a business case for forest management, and we offered to help them make their case to at the national level through LTKL," says Hernedi. "They have a competitive edge from the beginning with their strong commitment on agrarian reform and agrarian conflict resolution."
Learning from Sigi, Hernedi has also set up a specific task force to help his district deal with agrarian reform and agrarian conflict resolution – a critical building block before any investment to further support sustainable development can start flowing.  In parallel, LTKL has also helped Sigi and other members get involved in national discussions on better fiscal policy to support sustainable districts.
LTKL is hardly alone. Mayaysia's Sabah Province is well on the way to becoming a sustainable jurisdiction, and IDH is working with several other provinces across Indonesia, while Brazil's Green Municipalities are striving to attract international companies that have pledged to purge deforestation from their supply chains. In each case, local people and authorities have bet on those companies keeping their promises, and now the question is: will they?
Please see our Reprint Guidelines for details on republishing our articles.